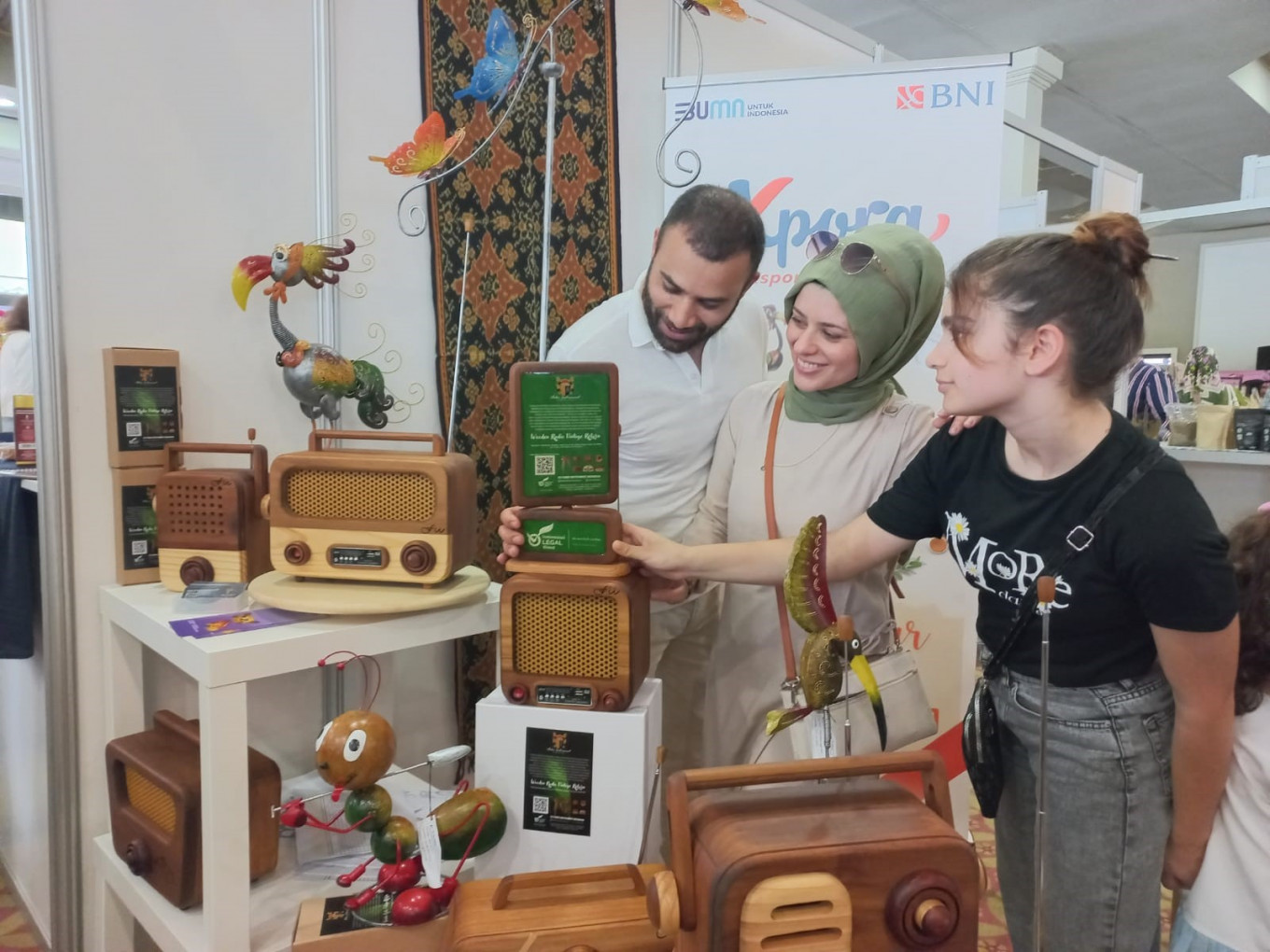 BNI brings partner MSMEs under its wing in the Turkish market – Inforial
Inforial (The Jakarta Post)
Jakarta ●
Mon 6 Jun 2022

2022-06-06
13:41
0
53ea05b5fe2e13733519dbf4e31c7c4e
4
Tooltip

Free

PT Bank Negara Indonesia (Persero) Tbk. or BNI (stock code: BBNI) continues its efforts to push more micro, small and medium enterprise (MSME) products onto the global stage. In Turkey, the company organized a Pasar Senggol Festival to showcase fifty types of products from BNI partner MSMEs.
Pasar Senggol Festival is an Indonesian economic and cultural festival in Turkey. The festival demonstrates the strengths of diaspora businesses that have successfully survived the pandemic.
BNI Secretary General Mucharom said that Turkey is a trading partner of Indonesia whose trade value increases linearly every year. Citing data from the Ministry of Commerce, the total value of trade between Indonesia and Turkey in 2021 stands at $2.01 billion, with Indonesia registering a surplus of $1.2 billion as net exporter. Turkey's economic growth in 2021, meanwhile, has maintained an 11% growth.
"We salute this festival which was initiated by groups of students and the Indonesian diaspora here in Turkey. The Ministry of Public Enterprises and the BNI are not only working to optimize the market potential, but also to actively contribute to the improvement of economic relations between Turkey and Indonesia," Mucharom said, noting the friendly relations between the two countries.
As a bank mandated to go global, BNI sent at least fifty products from MSME partners. According to Mucharom, these products can attract the attention of Indonesian companies as well as Turkish consumers to launch future cooperation.
"We also had a liaison and correspondence program with help from the Consulate General. Therefore, we could better focus on preparing the goods before entering Turkey," he added.
BNI partner MSMEs that the bank also promoted included Xpora MSMEs, namely Bali Wirama in the home and garden decoration category which shipped 100% of its product to Europe. Faber Instrumen Indonesia is also another MSME in the category of wooden musical instruments and interior decoration with products such as wooden radios, shoe horns, clocks and USB sticks that have caught the attention of foreign customers because of their unique Indonesian know-how.
To remedy the homesickness of the Indonesian Diaspora, Rumah BUMN BNI also participated with culinary products from Rumah BUMN Sleman, including Telaga Rasa. Telaga Rasa is an MSME that produces BPOM-certified herbal instant drinks and has a considerable retail presence in Indonesia. Meanwhile, Rumah BUMN Tegal introduced NM Food, an MSME in the food and beverage sector well known for its snacks.