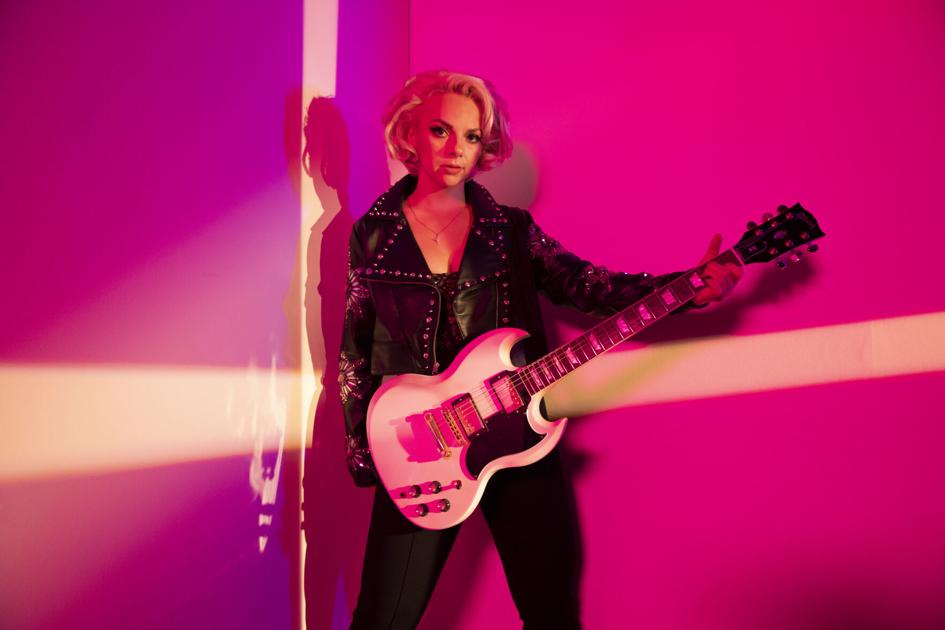 CESAREO GARASA: Samantha Fish brings 'good old rock' n 'roll' to world records | Music
Samantha Fish is a world class talent. A 32-year-old award winner with impeccable guitar sound and a knack for writing unique and catchy melodies.
She is skillful, talented, magnetic, sensual and is gaining momentum thanks to her latest album "Faster" (released September 10). Thereupon, Fish broadened his genre sound with aplomb. She will perform at World Records on October 2 as part of Series 103 of their nearly endless "No Stinkin 'Service Charge Blues" series.
"I want to perform these songs in a way that does them justice because I feel like they're so big," Fish said in a phone interview from Nashville, Tenn., Where she and her quartet were rehearsing to competently capture the album's wide range of sonic palette.
"They are larger than life. They ring huge on the record so it's a challenge to do it with only four people when, if you listen to the record, there are subtle layers and not so subtle ones. I want to be successful in a good old school rock and roll band. "
"Faster" was produced by Martin Kierszenbaum, who wrote and produced Lady Gaga's 2008 debut album, "The Fame", and produced Sting's 2016 album "57th & 9th".
"Martin had a really good idea of ​​how we wanted to perform these songs," Fish said. "The preproduction of this record was really effective. We traced it so that the skeleton was already there."
The album is both an evolution and a transition for Fish whose musical foundation growing up in Kansas City, Missouri, was as much blues as radio rock riff, acoustic bluegrass, and country (including steamy driving songs by truck), obscure influences like Madeleine Peyroux, Dan Hicks and His Hot Licks, John Hiatt and Lyle Lovett, college alternative rock and even an uncle who "looked like Zakk Wylde" and shredded on the guitar. Screams of heavy metals and everything.
Fish's family is musical, and her sister, Amanda, is also a full-fledged successful musician, whose 2018 album "Free" debuted at No. 6 on the Billboard Blues Artist Chart.
"Faster" is packed with generous use of synths, which Fish began exploring on his 2019 album "Kill or Be Kind", electronic drums (especially on the song "Hypnotic") and even ventures into the rap on the song "Loud", which features Tech N9ne playing to a particularly inspired verse.
"We blackmailed him, man!" said Poisson. "Synthesizers and rock'n'roll music are nothing new. We've been doing it since the late 1970s, right? I think it's a fun challenge to mix the old and the new one, to intersect genres, and I think that's just as important for gender growth. "
Under, and with, all this ear candy beats the album's sometimes broken heart. On the contemplative "All The Words", the instrumentation is broken down into voice, organ, piano and guitar. A lone tambourine makes an appearance just when all that needs to be said has been said: goodbye, "for a caged bird never flies".
My favorite track from the album, the growling and bouncy "So-Called Lover", is reminiscent of TV on the Radio's "Wolf Like Me" and Social Distortion's "Don't Drag Me Down". Familiar territory for prolific session legend Josh Freese who played drums on the album with The Last Bandoleros' Diego Naviara on bass.
They nail the groove here, expertly sustaining Fish's weirdly angular, singing chorus. Freese and Naviara both worked with Kierszenbaum with Sting.
"Josh is a pro. He knows what the song is about," Fish said. "The guy did this a few times, that's all I'm saying. Diego killed him too. He came in and had such mastery of the songs and was very confident. I felt like I was in between good hands with them, honestly. I've been very lucky to have studio musicians in my career and working with Josh, Diego and Martin is a highlight for me for sure. "
"Twisted Ambition", a call to reclaim your own personal power, is another star with its bass synths, impressive chorus and superb guitar solo. It seeps in with subliminal sounds buzzing just below the surface, giving it a really cool Nine Inch Nails vibe. It's a clever detail reflecting the song's themes about reversing power structures. That's right. Nine inch nails. Fun fact: Drummer Freese also performed with Nine Inch Nails.
Fish is also adept at coming up with a solid turn of a phrase, like on the song "All Ice and No Whiskey" (ha!), Where Fish's vocal melody takes on some delicious twists and returns a thick, funky groove.
But I believe the song on "Faster" that best sums up Fish's almost supernatural ability to move in different directions with such imaginative ease is the track "Together Forever". The intro and verses are dark and slightly distorted, the choruses soaring and pop. It's a real dichotomy where minor threat and major optimism (or is it madness?) Fit together perfectly on an undeniably perky pace. On this poppy love song, "misery loves company", indeed.
The mark of a good album, however, is when such an intriguing song ends and your interest is still engaged when the next song begins. "Faster" is how it is. Every song is a winner, every guitar solo a stunner, and to those who might say "Faster" could be a drastic change for Fish, I disagree. Each of her albums has been consciously conceptualized by her. "Faster" is the logical and welcome expansion of its sound. ZZ Top is still ZZ Top after all, it doesn't matter if it's "La Grange" or "Sharp Dressed Man".
Samantha Fish is an engaging, honest and insightful artist and human. It is also enlightening, reminding that no matter what style of music, age or gender, or even whether a musician is on stage or on TikTok, music evolves through people. Especially those who have a keen sense of melody.
"The thing is, we have 12 notes to play with," Fish said. "They've all been said before, but that's the voice you say them with. It's the setting, it's the writing of the songs."
"I love that the music never stops. I love that there is always something new. It will never stop evolving and I want to be there. I want to see it. 'evolution while I'm still here on this planet. I want to see all the nuances of music. I don't want to miss anything because I was closed-minded about it. "
Another fun fact, while talking about our respective hometowns, I shared some of Bakersfield's music history with her – as well as our history of being the hitting line for the occasional entertainer joke. talk shows like Johnny Carson.
His answer ? "It builds character in people, so you probably have great people."
Samantha Fish, with special guest Jonathon Long, 7:30 p.m. Oct. 2, World Records, 2815 F St. Tickets ($ 30) are available by calling 325-1982 or at World Records, open from 11 a.m. to 5 p.m. from Wednesday to Friday or 10 p.m. to 2 p.m. Saturday.
Contributing columnist Cesareo Garasa brings you The Lowdown on local music and entertainment every other Thursday.