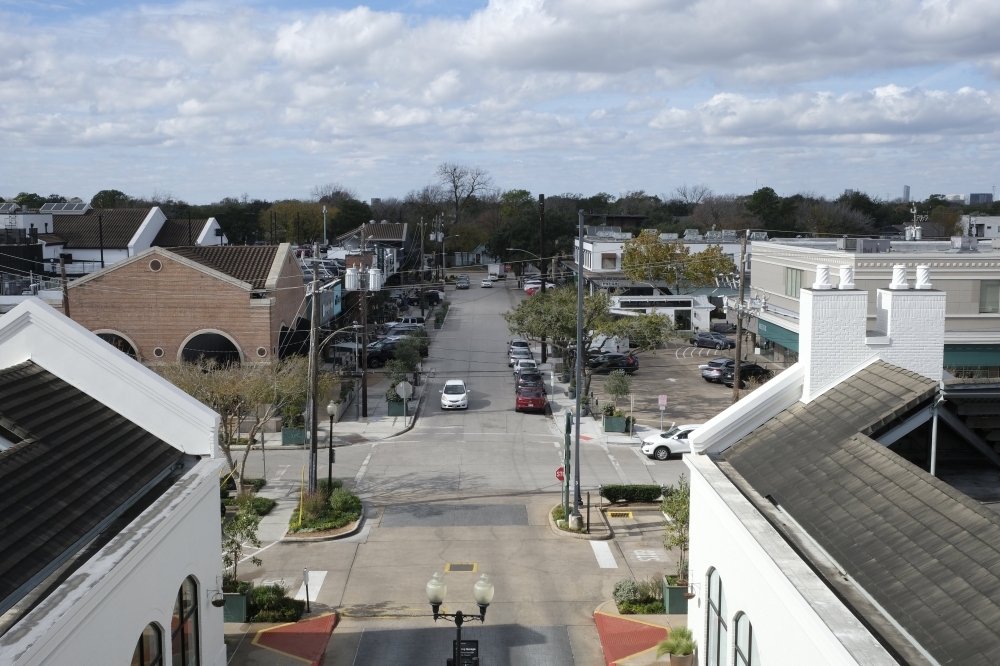 Changes to Rice Village bring more high-end stores
The Rice Village Mall west of Rice University has been a hodgepodge of local small businesses for decades. In recent years, more luxury chains have set up shop. (George Wiebe/Community Impact Newspaper)
Established in 1938 as a small collection of niche storefronts and tiny cafes, the Rice Village Mall sits just west of Rice University, from which it takes its name.
According to Melissa Kean, a retired author and historian at Rice, The Village has undergone demographic shifts, moving from its college/bohemian phase in the 60s and 70s to its local stores from the 80s to the 2000s.
"In the '60s, one of the things that changed a lot was that with college students, it wasn't very common for everyone to have a car," Kean said. "So Rice Village was like the center they could walk to."
Maps of Rice Village in 1968 show how the area accommodated the student population: stores such as the Weingarten Grocery, Village Laundromat, and Otto Office Supply as well as a U.S. Post Office provided the bare necessities for the population of the town. 'Rice University.
In the early 1980s, the upscale housing development at West University Place changed the landscape of Rice Village as stores began to accommodate residential customers.
"The faculty bought houses [in West University Place], and so things were modest; you would have a vacuum cleaner repair shop," Kean said. "There is nothing like it today. Everything has gotten richer; even the students have gotten richer.
Rice University began charging students tuition in 1965. Once they began charging tuition, the student body also became more affluent, Kean said.
While several stores still sold essential goods and services to students, many of the new openings illustrate this shift in wealth. Several jewelers and shoe stores, a guitar store, and a handful of beauty supply outlets have come to the center.
While Rice Village retains some of the local vibe of its previous iterations, a comparison of sitemaps from 1980, 2001, and 2021 suggests a move away from local mom and pop stores and toward larger retail chains.
Management history
The land in and around Rice Village has been owned by Rice University since the mid-1980s, but commercial ownership on this land has changed management over the years.
In 2014, Rice Management Co. acquired Weingarten Realty, which owned and operated Village Arcade, the southern half of Rice Village between Amherst Street and University Boulevard, for more than 20 years.
Property management has changed hands twice more since moving from Fort Worth-based Trademark Property Co. in 2014 to Houston-based Realtors REIS Associates.
The Trademark began the change to the character of the current village, according to a 2014 press release. In partnership with Rice, Trademark officials said they plan to improve the streetscape, landscaping landscaping, storefronts and facades in a way that "will set the stage for the modern evolution of this eclectic, mixed-use urban neighborhood".
REIS Associates, a private real estate company, has managed the Village Arcade portion of Rice since July 2019.
Aj Jennings, general manager of Rice Village's REIS, said local mom and pop sentiment remains a priority.
"The idea behind having a shopping environment and a village is for people to walk around and walk into stores," Jennings said. "We always want to make sure we have mom and pop shops that might be the only ones in town."
At least 11 new establishments opened in Rice Village in 2021. Eight of these new businesses were national chains, such as Van Leeuwen ice cream store and home and furniture stores CB2, Lovesac and West Elm.
Comparatively, Badolina Bakery, Christina Greene Jewelry and Cru Home, a pop-up furniture/decor store, were among the local businesses that opened in Rice Village last year, according to previous reports by the Community Impact newspaper.
REIS, though a more recent addition, has left its own mark, adding "tens of thousands of dollars" to landscaping in 2021, according to Jennings.
"We want people to come hang out at Rice Village," Jennings said. "We also strive to bring great restaurants to market, and we have done that with those opening this year."
Hamsa, an Israeli cuisine restaurant; Sweet Paris, a creperie chain that started in Houston; and Rice Box, Chinese/American takeout with three other locations across Houston, are all restaurants slated to open in Rice Village in 2022, Jennings said.
Cost of doing business
With the shift to selling high-end goods and services as well as multiple building renovations, property values ​​in Rice Village have increased since 2014, according to data from the Harris County Assessment District.
The average value of properties in the Village has increased by 15.26% since 2018, an average growth of 3.8% per year. By comparison, between 2014 and 2017, property values ​​in Rice Village increased by 52.25%, or an average of 13% per year, according to data provided by HCAD.
Several long-standing businesses in the neighborhood have closed or moved to new premises over the past eight years. Half price books closed in 2020; Almaza Jewelers moved several blocks north; and Miss Saigon Cafe is now three kilometers from Rice Village.
In 2014, there were almost as many chain businesses as local businesses in the section of the village between Times and University Boulevards, according to the Rice Village Alliance's 2014 Business Directory. Today, less than a quarter of Village stores are local to Houston.
For some business owners who stayed in the village, they said the changing atmosphere was positive.
The Main Street Theater on the north side of Times Boulevard has been in operation in Rice Village since 1982.
"I've always loved Rice Village," said Rebecca Greene Udden, artistic director of Main Street Theatre. "It's such an eclectic assortment of things."
While the area doesn't have the same variety of toy stores, supermarkets and movie theaters, it's not lacking in customers, Udden said.
"Having so many good restaurants has been a boon for us because it makes going to the theater an event," she said.
For others in the Village, staying put is more of a tradition.
"We're a relative anomaly in the restaurant world and in the business world because we've been here so long," said Dave Cook, owner of Italian restaurant Prego.
Prego has been serving modern Italian cuisine at Rice Village since 1983.
"We're so grateful to be where we are after the two years we've been through," Cook said. "So it's just wonderful that we can continue to support this community."
Hunter Marrow contributed to this report.