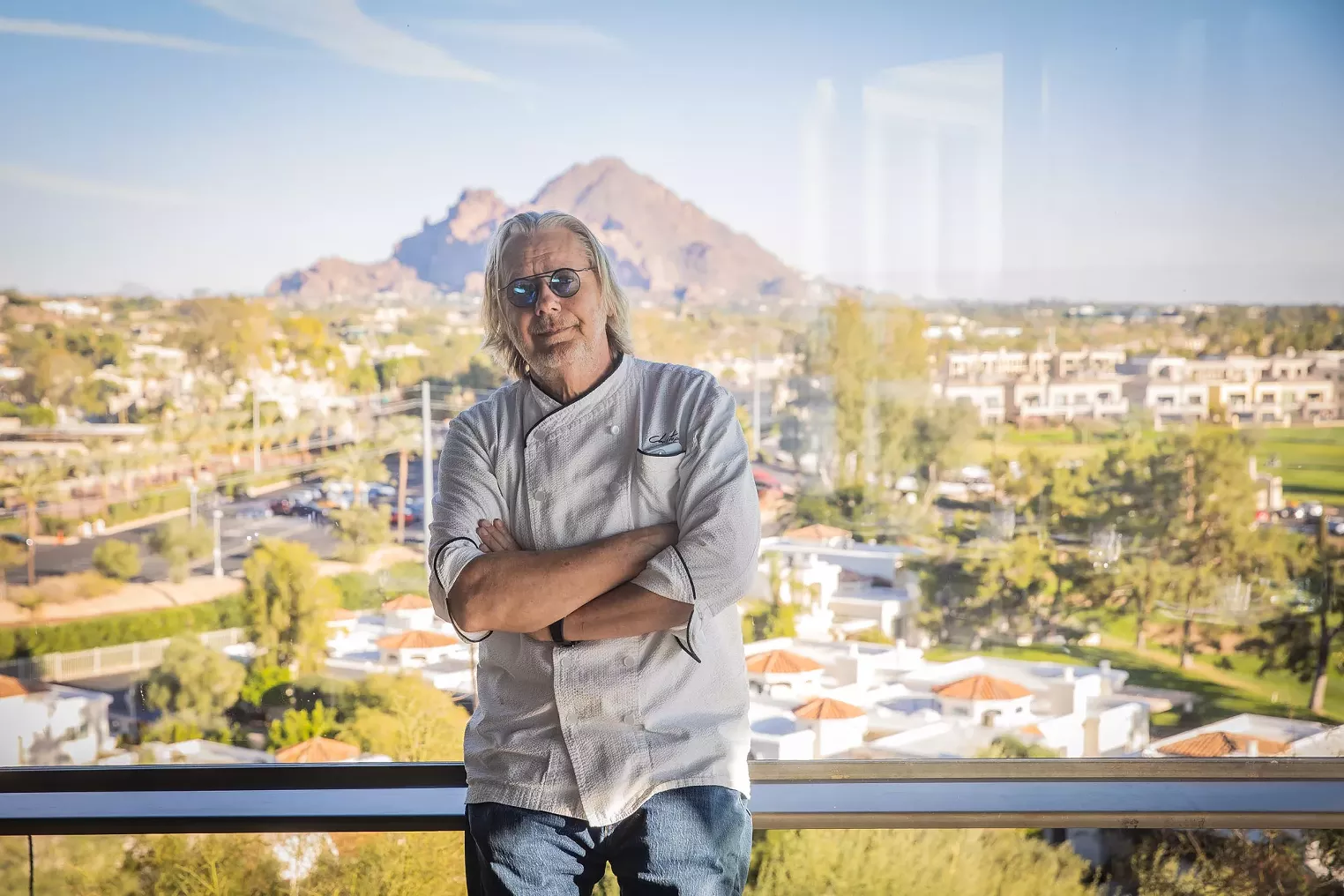 Christopher's at the Wrigley Mansion: a French legend revisited
There was a time when French cuisine was the pinnacle of American cuisine. But generations have changed, and now we eat more widely and casually. The idea of ​​French cuisine today has taken on an air, almost like that of classical poetry, medieval history or black and white photography. We have the impression of belonging to the past.
One of the Valley's most famous chefs for decades, James Beard Award winner Christopher Gross, now 65, has cooked in restaurants in Paris and Chablis. He was trained the old fashioned way. He prepares dishes such as foie gras terrine, pâté and soufflé. He cooks French dishes.
After two years of construction, Gross has just opened a new restaurant, Christopher's. It's a sleek and expensive space attached to Wrigley Mansion, a dark jewelry box with floor-to-ceiling glass walls that give diners panoramic views south over the sprawl and towers of downtown Phoenix. . Gross says this restaurant will likely be his last.
As I headed towards Christopher's, I had this drama in mind: a chef trained in old-fashioned French, a new culinary world. How would it taste, feel and condition?

There are two routes you can take to Christopher's for dinner: the classics on weeknights or the tasting menu on weekends.
The tasting menu is an imaginative flight so unconventional that Gross uses tableware to match every artful dish, including a Cosanti bell. At $ 250 a drink before alcohol, however, the tasting menu is out of my price category. Instead, I went to the classics. They're picked up at key points in Gross's career, and they don't come cheap either: $ 100 for a fixed price of 3 courses with extra touches like finger food and scotch-infused chocolate truffles to close.
Even the classics menu has a dreamlike quality. You lose track of the number of servers coming to your table. The sun is setting over the city. The wine list seems endless.
After a fun there is a bread service. The baguette and sourdough, both baked here, are so good that it will be difficult to refrain from stuffing too many slices as the night deepens. The same goes for the decadent butter produced in-house using the Fond du Lac Farms dairy.
Rustic skinny entrees. A country pâté brings irony, the creamy thunder of the meat and is a great reason to launch a second attack on the bread. It might sound simple, but I enjoyed the homemade smoked salmon served with simply dressed greens. To reduce that bad boy to fresh fish with smoke-touched pink folds dissolving on your tongue, Gross uses a method he learned at a restaurant near Versailles. He sets up hotplates and a baker's box with a hole in it, using this makeshift container to smoke high-fat, salted Norwegian salmon for 24 hours at a temperature of no more than 94 degrees.
Great food and great dining experiences demand great attention to detail. In the bright twilight of his career, Gross deals with microscopic details. From the placement of the silverware (in a drawer sticking out of the table) to the thoughtfulness of the service (constant and helpful without feeling intrusive), Gross has thought of every detail. And you can tell he considers them as you eat, gently watching him run the spacious open kitchen set off by a wood-burning oven and grill.
Rough floors the accelerator pedal for the entry course. At this point you can really glimpse what he can do with the food spiritually and technically.

Gross grills an irreproachable fish that varies from day to day, nicely crispy skin, fleshy and fragrant flesh, marine goodness enhanced with a delicate virgin salsa. You have the choice between scallops and roast chicken, and a smoked fillet with truffle. It is time, however, to put all that aside and talk about the duck.
The Two-Way Duck is an example of how a Supreme Tech can go absolutely ham by fine-tuning tiny dimensions of detail that your average chef never even enters. The plate consists of duck breast and duck leg that sway over a shallow basin of black sauce. There are probably other components, but the duck erased them completely from my memory.
Gross cooks the breast first under vacuum, then on the grill over a wood fire. It confit the leg in the traditional way, with thyme and garlic, simmered then reheated. The sauce on the plate, smooth, fine and brown, draws its incredible depth from the veal consomme made from veal breast and pig's trotters. The sauce has a sensual smoke and surprising animal richness. It's just a powerful tasty elixir to slip in slices of tender and mineral duck breast. The thigh is cooked to a sublime drop state, almost like a large barbecue, bringing a shot of the darkest meat glory you can imagine.

At the start of the meal, long before the main course, the meal stops to become a meal. It becomes an experience. You just happen to be eating.
It becomes an escape, but not to a dusty bygone era. The way Gross calibrated the experience – relentlessly personalizing, laboriously building a space unlike the mock white tablecloth you might think of when you think of fine French cuisine – it breaks the mold. It's classic French with its own refinements. And yet, it feels cool and electric.
I think our modern food culture is too obsessed with the new. We tend to extol new openings, new foods, new faces. People are flocking to styles of coffee, ingredients, and anything colorful and overdone that can be giddy online. How the food culture evolves is essential. But I think in so many recent, "recent" developments referring both to months and years, we have gone astray.
I would love to see a return to the celebration of food, technique, reflection and stories.
Here's a good story: Celebrity Chef Valley opens an unconventional restaurant in a new culinary era in the bright twilight of a long career. It follows its own dreamlike drum beat and hits every note, from the Chartreuse yellow spritz to the unholy bite of coffee cake that comes, without asking, with your cappuccino in a brutally simple gray mug designed by the chef.
Expected but unexpectedly the restaurant is a 10/10.
Christopher is at Wrigley Mansion
2501 Telawa East Trail
Monday to Saturday, 5 p.m. to 10 p.m. close on Sunday
602-522-2344