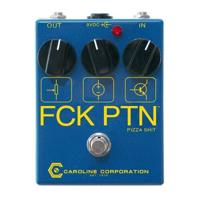 Columbia Musical Groups Offer Donations and Messages of Support to Ukraine | News about concerts and music
Moved by photos of parents packing children into trains to flee Ukraine amid the ongoing crisis as Russian troops invade the country, Philippe Herndon did what he did throughout his decade at the head of the Carolina Guitar Company.
The parent-of-two decided to help as little as possible by donating almost $10,000 to causes supporting Ukraine.
The owner of the local guitar accessory store has launched pre-orders and handcrafted guitar pedals in the blue color of the Ukrainian flag.
In yellow letters, the phrase "FCK PTN PIZZA SH#T" is painted on it. After selling out quickly, Herndon sent $9,587.02, half of which went to the World Central Kitchen and the other half to the International Committee of the Red Cross.
Interest was also stimulated by a series of t-shirts, which Herndon also pledged to donate funds.
"People were on board, man, and I think people are really hungry, looking for ways to help," he said. "I think if there's anything we've seen, it's people's frustration at not being able to buy more."
Some people have criticized that Herndon simply allows people to signal virtue, which means supporting something without effort or real effect, or that he benefits from it.
That's not quite the case, as he donated all the proceeds and said he just ignored most of the criticism.
Herndon has also used his business for other philanthropic causes in the past. He said they made specially designed guitar pedals for local causes such as Girls Rock Columbia and the Trevor Project, among many others.
"There's something satisfying that people can get their foot on it," he said.
He's not the only local music player trying to send a message of support over the ongoing dispute.
The University of South Carolina Symphony Orchestra had originally planned to end a March 3 performance with "Slavic March" by late 1800s composer Pyotr Ilyich Tchaikovsky. It's a song that commemorates the war and features the national anthem of a Russian czar, said Taylor Harding, the music school's dean.
"We just felt it was insensitive to do at the time," he said.
Instead, Scott Weiss, the band's bandleader, proposed a change. The group performed "Picture at an Exhibition, The Great Gate of Kiev" by Modest Mussorgsky on March 3. Although Mussorgsky was also a Russian composer of the 1800s, Harding postulated that the piece was made to celebrate Kiev and a work of art that honored the city.
Making the switch just days before a performance might seem like a tough pivot, but the new piece is one of the best-known parts of the famous 'Picture at an Exhibition'. Harding said the orchestra only needed one rehearsal to properly prepare for the new song.
"It was just a much more appropriate piece for the audience," he said. "It's kind of a catchy thing and we just know our audience will be kind of moved by it."
Other Colombian companies are finding ways to symbolically boycott the war and also send aid to Ukraine. Chubby's Burgers and Brewhouse in Blythewood has started offering a flight of Ukrainian-made alcohol with a quarter of the proceeds from those sales going to charities like UNICEF, which provide aid to the country, owner Chris Sarant said.
The company no longer sells Stolichnaya or Stoli vodka. The vodka, which has roots in the Soviet Union, is not actually made in Russia, but in Latvia and has distanced itself from the association.
Other businesses in the area have taken similar action – with some critics calling it a meaningless move – such as an Indian Land liquor store. State Rep. Russell Fry, R-Surfside Beach, introduced two bills that would ban. the sale of Russian-made spirits – a relatively rare supply locally – and necessitate state divestment of Russian investments.
Hannah Wade contributed to the reporting of this story