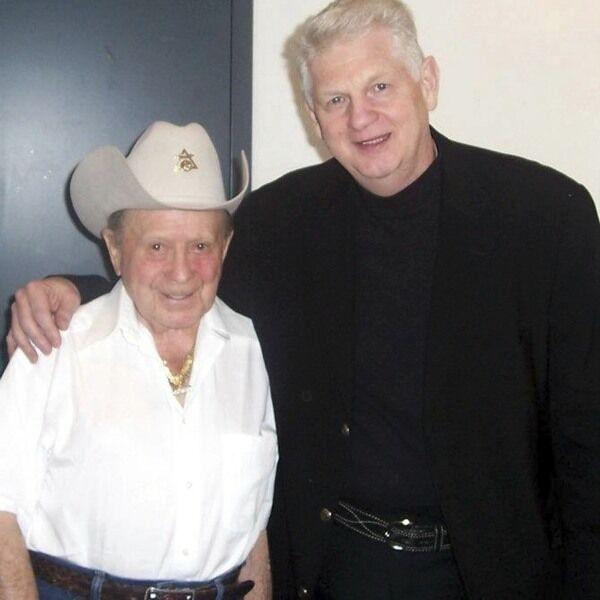 Dick McVey to host "Parlons musique" at Tamarack | State and region
Dick McVey, a former Beckley area resident and Mullens High School graduate, will return from Nashville to lead an informal "Let's Talk Music" session in the Tamarack Boardroom on November 13 from 1 to 4 pm. Places are limited to 30 people; the cost is $ 25 per person.
When McVey graduated from Mullens High School in 1966, he dreamed of a glamorous career in music – lots of money, lots of excitement, lots of travel, lots of adoring fans, lots of girls. Real life, however, has a way of turning dreams into harsh reality.
Through hard work, determination and a willingness to adapt, McVey has beaten all obstacles and made his dream come true and has no plans to retire.
His resume says it all.
McVey has made over 500 appearances at the Grand Ole Opry, played bass for over 20 major artists, produced and recorded over 500 albums, and has also served as an agent, manager, publicist, editor and chief of the Nashville bureau. for Performance. Magazine. He has also been named "Ambassador of Music" by the State of West Virginia, named "Who's Who in America" ​​and is nominated for the "West Virginia Music Hall Of Fame".
"It's funny. I love what I do," McVey said, adding that he wanted to keep going for as long as he could.
With a studio at his home, he continues to work in the studio despite the Covid-19 pandemic.
McVey moved to Nashville almost 40 years ago in 1982, after his Beckley-based band played there for five weeks.
"I knew this was where I needed to be," he said.
The event at Tamarack will be informal with McVey answering questions from attendees about the music industry and their specific music careers.
"I wanted it to be a very relaxed meeting where everyone is comfortable," said McVey. "It will be fun and I want people to understand that the only stupid question is the one you don't ask."
He said the reason for the workshop is twofold.
"First of all, I want to educate people, especially young people, about the world of music, so that they can make realistic and informed decisions about their music career," he said.
"There are so many people losing thousands of dollars to scams in the music business and this meeting should prevent that from happening.
"Second, I want to show them that I am proof that you can achieve great goals if you work hard. Dreams can come true. "
McVey operates his recording studio in Nashville, while managing and booking Travis Le Doyt, who is considered the best Elvis tribute artist in the world performing as a young Elvis.
He recently completed a book about his life, "Appalachian Dreamer," available on Amazon and rated five stars.
"Dick McVey is a man I've known for decades and for those who want a career in the music business, Dick gives you an insight into the inner workings of an industry generally closed to outsiders," said Wayne Harper, former vice-president. by Capitol and Dreamworks Records.
After the "Let's Talk Music" workshop, McVey will sign copies of his book from 4 pm to 6 pm with no admission fees.
•••
McVey was born in Pemberton, near Beckley, and grew up around gospel music, watching his father, mother and uncle perform in a gospel trio.
In 1963 the family moved to Amigo and while in high school McVey formed his own group, The Offbeats, which was later changed to The Rondeaus.
The group became popular in the southern coalfields with McVey scheduling rehearsals, reservations and publicity and overseeing finances and transportation of members and equipment.
Always learning from his encounters, McVey found these early experiences invaluable as his professional career evolved to include the business side of the industry.
Although he was kicked out of Concord College for breaking a few rules, he earned a two-year degree from Beckley College.
He went to work in the funeral business and was working at a funeral home in Logan when the Buffalo Creek disaster struck in 1972.
"During my years as an ambulance driver and working in funeral homes, I had seen a lot of terrible things, but I was not prepared for what I was about to see," shares McVey in his book on entering Man Junior High School. gymnasium, where a temporary mortuary had been installed following the historic flood disaster.
"… As I walked in, the sight weakened me. Row after row of bodies on display for identification by relatives or friends. There were a lot of kids and this spectacle alone was heartbreaking. Clothes had been torn from many of them. You could see tree branches impaled in their bodies where they fell over and over again. It left an indelible image in my brain that I can still see to this day and it made me realize that maybe this was not my calling in life, "he wrote.
Married with a son and another on the way, McVey indeed left the funeral business and music for a short time, while working as a paramedic at a coal mine in County Raleigh.
His dream of a musical career, however, still drew him on and in 1978 he left the security of a mining job to pursue it full time.
The book describes his first experiences on the road, sometimes traveling with his wife and children, often with very little money, and sleeping in roadside motels.
Once McVey determined that country music was the best place for his career longevity, he switched to country music and moved his family to Nashville.
Over the years he has worked with artists such as Loretta Lynn, Little Jimmy Dickens, Merle Haggard, Nat Stuckey, Jean Shepard, Holly Dunn, George Jones, and rubbed shoulders with Dolly Parton and Garth Brooks, among others.
McVey also sold t-shirts and other country star merchandise alongside Louis Owens, Dolly Parton's uncle, where he made more money than performing. It was Owens who taught him a lot about the country music business.
In the book, McVey also shares his experiences with many of the stars he has worked with, including Dickens.
Scheduled to perform at a military base in Virginia, the group arrived the day before and eagerly awaited a day off doing nothing but resting in the tiny motel on the outskirts of Washington, DC, said McVey in the book.
"Around 4 am I was woken up by a siren that seemed to be right outside my room," he wrote. "When I woke up I could see flashing red lights bouncing off the window shades and the lights were stationary, not typical of fast emergency vehicles. When I realized the flashing lights were right outside my room, I I jumped to my feet and pulled the curtain back, revealing a parking lot full of fire trucks, ambulances and police cars.
"Oh my God, the motel was on fire !!!"
Quickly jumping into his pants to warn Dickens and the other members of the group, McVey was sure it would "score big points" for him.
"I could see the headlines, 'Band member saves little Jimmy Dickens from fire.'
"In the L-shaped configuration of the motel, our room was closest to the fire, just to our left. Dickens was in the room immediately to my right.
"I knocked on his door with all my might and called out his name. I could just see "McVey Saves Grand Ole Opry Star".
"As Dickens groggy opened the door, he said, 'What is this? "
"I said, 'Jim, the motel is on fire!'
"In his many years on the road I'm sure Little Jimmy Dickens had seen it all, but his response shocked me.
"He leaned out the door, looked to the left, saw the fire and said calmly, 'Wake me up when he gets to your room.' He closed the door and went back to bed, looking disturbed that I had woken him up to such a mundane thing.
"I thought I was going to be a hero and guarantee my job for life. Neither has happened. The fire was extinguished long before it approached our rooms.
"The next day was business as usual, but I'll never forget the day I almost became a hero," McVey wrote.
Of all the hats McVey has worn in his career, performance is still his favorite.
"I love being on stage with a live crowd, feeling their reaction," he said, adding that he had performed in front of an audience of over 30,000 people.
"Appalachian Dreamer" is available on Amazon.com in print and Kindle versions.
For more information or tickets for the Tamarack session, call 615-714-3637 or email [email protected]