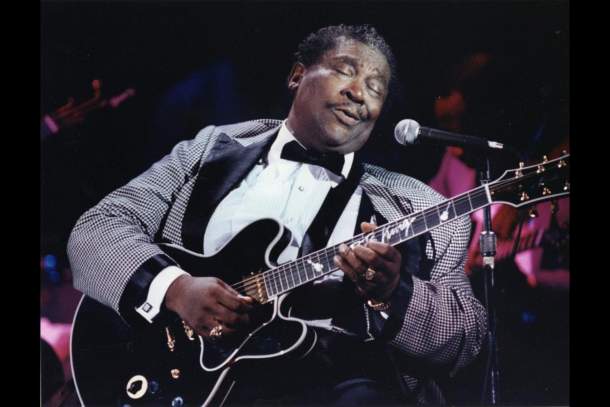 Gibson: "BB King Lucille Legacy" Available Worldwide at Gibson.com
For the past 128 years, Gibson – the iconic American instrument brand – has been synonymous with creating and shaping sound across genres of music and generations of players. Today, Gibson Custom Shop is proud to pay homage to a true guitar hero with the release of BB King Lucille Legacy, based on BBpersonal and best-known guitar of. It's not often that a guitar captures the essence of an artist, but the BB King Lucille Legacy matched BB's style and personality perfectly. The BB King Lucille Legacy has been meticulously crafted for fans around the world to experience at authorized Gibson dealers and at www.gibson.com.
Gibson Custom Shop is honored to present this BB King Lucille Legacy guitar, to pay homage to the legendary career of one of music's greatest pioneers. Based on the famously named guitars of blues legend BB King, the Gibson BB King Lucille Legacy in Transparent Ebony features all the high-end appointments befitting a king.
Watch and share the new BB King Lucille Legacy video, HERE.
"We are honored to celebrate the life and spirit of BB King with this very special addition to the Gibson Custom Shop Artist Collection," said Mat Koehler, Senior Director of Product Development, Gibson Brands. "The Lucille Legacy model features both classic Lucille features and ornate new elements like split block inlays and a stunning figured maple body. His beauty and character pay homage to the man who brought joy to millions around the world and created music so powerful it will live on forever.
"It has been a pleasure working with the Gibson team to develop a new line of BB King Signature Lucille guitars," said Vassal Benford, CEO and President of BB King Music Company. "I am proud of the new Lucille Legacy guitar and the delivery of a true work of art, opening up the life and legacy of BB King to new artists around the world. Gibson is a wonderful partner and they have demonstrated sincere alignment with our mission to not only preserve BB King's legacy, but to continue to grow his brand and expose a new generation of artists and fans to his music.
Spending his life sharing the music of his soul, the man born Riley B. King would go on to become one of the most influential blues musicians of all time, being crowned 'The King of the Blues'. Releasing over 50 albums and 2400 master recordings along the way, The King of The Blues, gathered other musicians in its wake and fused them into the harmony of its animating passion. As the winner of 15 GRAMMY Awards and recipient of The Recording Academy Lifetime Achievement Award, The King's global audience continues to expand worldwide and reaches over 90 million average annual streams.
Ideal for blues royalty, the Gibson BB King Lucille Legacy features several notable appointments including split block inlays, gold hardware, with a gold "BB King" engraved truss rod cover and TP-6 ​​tailpiece with fine tuners. A "Lucille" mother-of-pearl inlay adorns the headstock, and the ebony fingerboard features split mother-of-pearl inlays. A mono Varitone switch, along with four conical CTS audio potentiometers and Bumblebee paper-in-oil capacitors, are mated to Gibson Custombucker humbucking pickups. The legendary hollow body design remains, but the f-holes are gone, in keeping with BB King's personal preference. The guitar's top, back and body sides feature a stunning figured maple veneer, visible through the clear ebony finish, making the Lucille Legacy an impressive addition to any player's collection.
Check out the Gibson BB King Lucille Legacy from Gibson Custom Shop, HERE