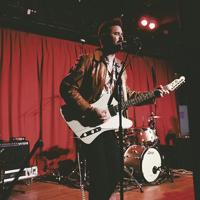 I&R Evolves With New Album 'Keep The Sun In Your Eyes' | Arts & Living
A lot of people in the music industry say that the first album is the most important release of a band or a musician's career, which is understandable. It serves as an introduction to a specific sound and a preview of what's to come, but allow me to argue that the follow-up is of greater importance. The second album in a discography solidifies the artist's vision while presenting a fluid evolution that shows notable differences from the first opus. This is the case of the indie rock group I&R, led by Josh Cournoyer, a native of Coventry and a graduate of the Prout School. The project's second release, Keep The Sun In Your Eyes, was released on January 21 and showcases immense growth in Cournoyer's songwriting while showing his willingness to venture into new sonic avenues.
Cournoyer began writing the album during the summer of 2019 at Middle Tree Studio in Nashville while living in the city. It's the same studio where he did the overdubs and mixing for I&R's debut album Bankrupt City which was released the same year. After clicking with studio owner Joe Pisapia, he began helping with studio operations and diving into different aspects of the recording process before the COVID-19 pandemic brought him back to Rhode Island.
"I decided I wanted to go deeper into the art of making records and on my 34th birthday I asked him to learn about it in some sessions," Cournoyer said of the making of the new album. "Joe kind of planted the initial idea that I should try designing some of the follow-up album myself. When the first COVID-19 lockdowns happened, I was spending a few months in Providence with the intention to write this record and it became pretty clear that I wouldn't be going back to Nashville in April 2020. I ended up renting an empty AirBnB on Federal Hill and shipping in a bunch of analog recording equipment. seven months, I woke up every day, wrote, recorded, and explored the city on foot to interrupt work.
"'Keep the Sun in Your Eyes' is the story of a major transition period for me," he adds. "I was finishing up a six-year stint in the South, returning to the town where I grew up and trying to relate to who I was as a person and as an artist. Sonically, I tried to create a balance between dark and light, to reflect this journey. You'll hear lots of buzzing textures on the record, interspersed with horn and flute sections. I wanted a record that felt almost fragile in its quiet moments, to create a counterpoint to my typical dense arrangements.
Tracks like "Dance The Death", "Summer One" and "Sycamore" bring a unique blend of new wave, psychedelic rock and post-punk while maintaining a singer-songwriter aesthetic. This extended sound comes from what Cournoyer had at his disposal when he made the record himself.
"Because I was doing the record in isolation, I couldn't rely on other players," he says of the creative process for "Keep The Sun In Your Eyes." "I ended up using a lot of Mellotrons, along with drum machines, tape echo units, and Moog synths to lay the groundwork for the recording. This was in addition to the drum setup, bass, piano and guitar that I relied on in the past. All sources went through a Canadian broadcast recording console, made by Ward-Beck, who came from Oklahoma. The platter actually has a really interesting story, at one point he was residing in a studio in Savannah, Georgia where alternative rock legends Providence Zox recorded.
"While I ended up designing, mixing and performing the entire record, I also relied heavily on Joe and Zac Clark who served as the album's executive producers," Cournoyer adds. "They provided feedback on the mix, helped with technical issues, and got me back on the path to when I had lost the creative line."
From start to finish, I&R's new album resonates with multi-dimensional substance throughout the tracks. There is a wide variety of tones and approaches and each song brings something different to the senses. It's far from redundant and overall provides a quality listening experience. Listen to "Keep The Sun In Your Eyes" on Apple Music or Spotify to immerse yourself in something refreshing for the ears. For more information on what Cournoyer and his project will do in the future, log on to whoisiandr.com.