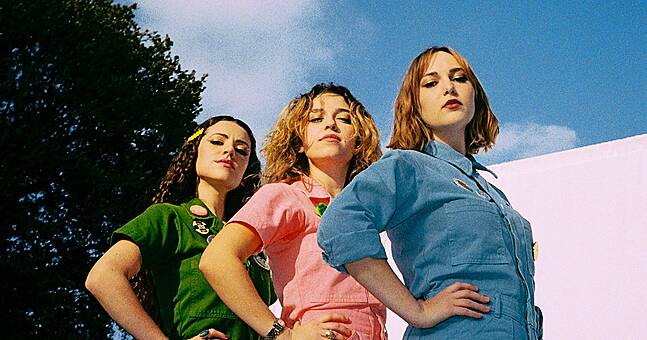 Live Report: Trousdale brings country-pop-infused harmonies to Dolan's
Hailing from California, country-folk band Trousdale took to the stage at Kasbah Social Club at Dolan's to perform their first-ever show in Limerick on Thursday, July 21.
On Thursday, July 21, American country-pop band Trousdale took to the Kasbah stage at Dolan's for a night of heart-pounding country-pop music.
Composed of Quinn D'Andrea, Georgia Greene and Lauren Jones, Trousdale hails from the prestigious popular music program at the University of Southern California. The group formed in 2014 with their first release about six years later in 2020.
On their first-ever tour across Europe, the acoustic trio stopped at Dolan's in Limerick for an intimate mid-week gig with backing from Dublin-based family band CARRON.
CARRON is composed of sisters Méabh and Mella Carron accompanied in the evening by Darragh, Méabh's new husband, on guitar. Going on stage around twenty minutes to nine, the trio were extremely grateful to Trousdale for accompanying them on their two dates in Ireland. Brandishing a great connection between the trio – the sisters' tight harmonies and tone of voice scream Disney's Celtic princess. Think HAIM, Dianna Agron and Anna Camp all combined with an Irish twang.
Great covers of "Shake It Out" by Florence + the Machine, and a mix of "Don't" by Ed Sheeran, Blackstreet, Dr Dre and "No Diggity" by Queen Pen, as well as "Thrift Shop" by Macklemore , ensured that the audience was not short of familiar songs. However, when it comes to original material, CARRON has struck all the right chords. With a slew of tracks already released on streaming platforms, the sisters let the public know that they were working on an album. Their original tracks were where their harmonies and vocal turns shone, with a song "Numb" including a stunning canon near the end. The stunning vocals fused with effortless guitar created a wonderful listening experience. It was obvious that these tracks came from the heart of the sisters' family bond, adding an element of sweetness to each perfectly written lyric. The small but attentive crowd responded with joy to CARRON's set, praising the trio as they exited the stage.
Announced by John Hennessy of Seoda Shows, Trousdale arrived on stage wearing brightly colored denim jumpsuits. As soon as they arrived on stage, the all-female band had the audience in the palm of their hands. They opened the show by discussing their show the night before at Whelan's, where their keyboards popped out – "dumb Americans" they called themselves. They joked about how the person who helped them fix worked for the Cranberries adding, "I guess they're a big deal here??"
After their banter, the trio began their first song "Bad Blood" from their upcoming album. My jaw hit the ground. With just an acoustic guitar, keyboard, foot tambourine and shakers, the band sounded better than most full bands I've seen. The three folk-country vocal layers rival any Taylor Swift or The Chicks track I've heard, giving me goosebumps from the first note to their last song. I couldn't blame Trousdale even if I wanted to. Even my diehard punk boyfriend was speechless at their performance.
The Los Angeles-based singers performed a solid mix of unreleased and older material, including personal highlights from "This Is It," heavy country track "Point Your Finger," "If I'm Honest," and " Wouldn't Come Back". Listening to the powerful lyrics of each song, it's no surprise the band spent days in Nashville with expert songwriters Natalie Hemby and Jon Bellion. As an avowed country-pop fanatic, I knew this band wouldn't be a hard sell, but there was something about forgetting 'Night Changes' is a One Direction song when it's so good recovery that blew me away.
While all three singers were phenomenal, Georgia Greene's vocals were the most outstanding vocals I've ever heard live. My eyes brimming with tears for most of the night, Georgia's voice filled the room in an astonishing way – for such a small woman, the power of her voice is indescribable.
Before the band finished their set, the audience begged for "one more bit", with one audience member informing the band "this is how we do it in Ireland". After checking with the promoter, the band accepted two more tracks – a request for audience and a cover. 'Better Off', a beautifully soulful anthem track, was specially requested by the audience, leaving the crowd with chills. Clearly very close to guitarist Lauren, this song was deeply personal. Ending with an exquisite cover of the Eagles' "Heartache Tonight", these three Americans got a Limerick crowd going.
In a short interview after the show, Trousdale spoke about their love for Ireland. "We're having the best time. We said it on stage but everyone here is so nice, like MUCH nicer than in the States, and it was shocking," the band confessed. 'We booked a few places we knew we absolutely wanted to come to and Ireland was one of them. Then our European booking agent organized the shows for us and we were really blown away by the response we received.' got and by kindness."
Naming their musical influences The Chicks, Taylor Swift, Fleetwood Mac, Joni Mitchell, The Eagles, Johnny Marr, Sara Bareilles, The Beatles, etc., guitarist Lauren explained: "We all grew up with very different musical influences, so I think they all sort of play into our writing."
Finally, the trio gave me a glimpse of what's in store for them as a group. The group revealed that they are currently hard at work writing their debut album, with the first single due to arrive this fall. "The whole thing will probably be due early next year and we're producing it ourselves."
After hearing a little preview of this upcoming album, I wouldn't be surprised if Trousdale is an internationally household name by this time next year.
Check out Trousdale's latest single "Do Re Mi" below.