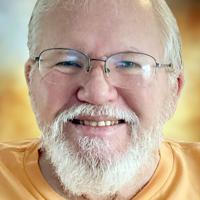 Paul Dale Frost | Obituary
ST. JOSEPH — Paul Dale Frost, 69, of St. Joseph died at 8:47 a.m. on Wednesday, April 6, 2022, at his home with his family by his side.
Paul was born November 16, 1952, the son of Harold Joseph and Virginia Dale (Sternhagen) Frost in Rapid City, SD. He married Ellen Jane Freeman on September 3, 1977 in Pearl Harbor, Honolulu, Hawaii.
Survivors include his wife, Ellen Jane Frost of St. Joseph; one son, Matthew (Elizabeth Shaheen) Frost; two daughters, Margaret (Keyvan) Samadi and Melissa Frost; and five siblings, Joseph Gregory (Joyce) Frost, Carolyn (Maher) Al-Khoury, Eric (Pam) Frost, David (Debbie) Frost, and Amy (Jason) Souza.
Paul was predeceased by his parents and three siblings, Stephen Joseph Frost, Karl Albert Frost and Kenneth Anthony Frost.
Paul served in the Navy as a submariner from 1971 to 1992, where he earned the rank of senior chief machinist. After serving his country, he worked as a purchasing agent for Illiana Veterans Health System in Danville until 2012.
He enjoyed playing bass guitar and listening to music, woodworking, and watching a variety of movies in his spare time. He was also a sports enthusiast and a lifelong supporter of the Seattle Seahawks and Seattle Mariners. But his favorite pastime was simply playing cribbage with his family.
A celebration of life service will be held at 10 a.m. on Friday, May 6, 2022 at the Sunset Funeral Home and Cremation Center, 3940 N. Vermilion St., Danville. Pastor Glenn Corbley will officiate. Interment will be in Danville National Cemetery with military rites granted by the American Legion Post 210. Visitation will be from 9:00 a.m. to 10:00 a.m. Friday, May 6, 2022, at the funeral home.
In lieu of flowers, memorials are requested from the ALS Therapy Development Institute at als.net or the American Diabetes Association.
Please join Paul's family in sharing memories, photos and videos on his tribute wall at sunsetfuneralhome.com.