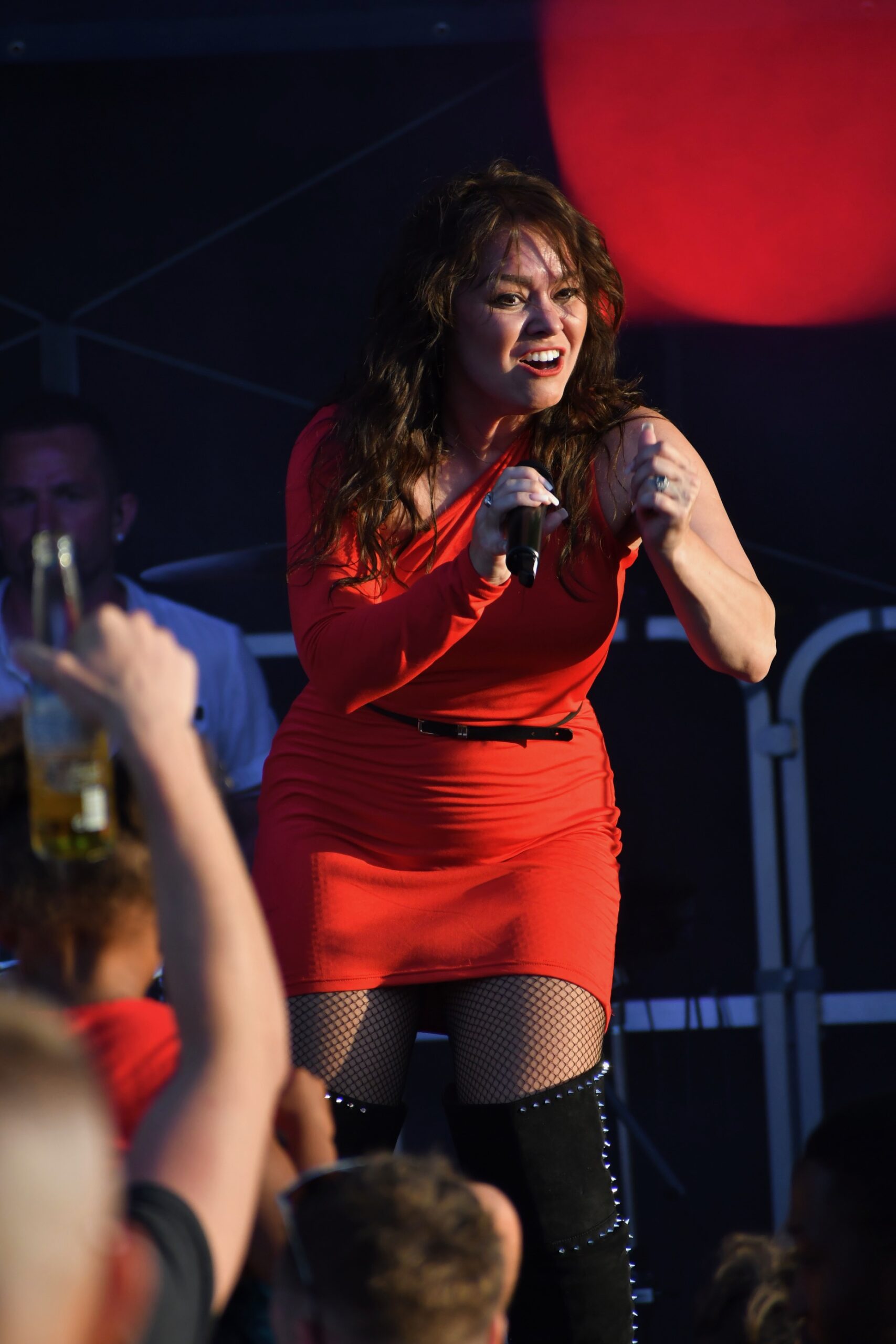 Sweet Siren back from European tour
by Dennis Dalman
Jeff Schreiner and his band, Sweet Siren, recently returned from Europe where they performed eight shows for troops at seven military bases in four countries.
Schreiner, 51, grew up in St. Joseph and attended St. Joseph Lab School. He now lives in Sartell. Besides being a guitarist and singer, his "day job" is driving a truck for Sysco Food Service.
Sweet Siren's European tour was the band's second. A few years ago, they performed four shows at two US Army bases in Germany. This time around, the group performed eight shows at seven bases in four countries – three Air Force bases, four Army bases. The musical route, like the previous one, was arranged by Armed Forces Entertainment, which is an agency of the United States Department of Defense. The band left on tour on June 23 and returned on July 5.
Schreiner is the lead guitarist and a vocalist of the band. There are three other members in the group. Jethro Arola, who plays bass guitar, runs a lumber yard in Menagha where he lives. Kent Christen, the band's drummer, lives in Sauk Center where he is manager of Welle Motors. Carolyn Curfman, lead singer of Sweet Siren, lives in Cold Spring and works at Advantage One Insurance in St. Cloud.
Also on the trip were the band's sound technician, Jason Baumunk; and stage lighting technician, Greg Schreiner, who is Jeff's brother. Vanessa Schreiner, Jeff's wife, went on tour and took thousands of pictures.
On their flight to Europe, the band members brought only their instruments and electronic equipment. All other necessary equipment was provided during their musical concerts.
Sweet Siren specializes in rock 'n' roll and pop music, as well as some modern country songs. On their set list of songs, there were, for example, the Black-Eyed Peas, Lady Gaga and Bruno Mars.
After landing at Heathrow Airport in London, the group got to see a bit of the city and traveled to Berkshire, near London, where they visited Windsor Castle, which was for centuries a royal residence of kings and queens and still is. Schreiner said he and his bandmates were overwhelmed by the experience.
Back in London, the band members' jaws dropped when they discovered that the tour arranger, Armed Forces Entertainment, had hired a double-decker tour bus for the band.
"It was fabulous," Schreiner said. "We stayed in hotels, but during our travel time we could rest. Very comfortable."
In England, the group gave two concerts. One was at Croughton Royal Air Force Base, which is also a US Air Force communications station in Northamptonshire, north of London. The other was at Lakenheath Royal Air Force Base in Suffolk County in northeast London.
Then the band and their tour bus were transported on a huge boat across the English Channel. They spent part of the day in Paris before heading to the Netherlands. There they performed at Volkel Air Base before traveling to Belgium for a show at Klein Brogel Air Base. Both bases had US military personnel in the audience.
Moving on to Germany, Sweet Siren entertained large crowds at three bases. A show was held at the U.S. Army's Baumholder Garrison Base, home to the largest number of U.S. military forces outside the United States – more than 13,000 personnel. The base is located in Baumholder, in western Germany.
Afterwards, the band performed two shows at the Wiesbaden military base in west-central Germany.
The band's final performance was the U.S. Army's Grafenwohr Base in Bavaria, southeastern Germany.
After their grueling but exhilarating whirlwind tour, the bandmates boarded a plane for the flight home.
Schreiner described the two-week experience as "amazing".
The audience for the shows varied from just about 25 people (the small base at Klein Vogel, Belgium) to over 8,000 (the last show on July 4 at Grafenwohr Base).
"At Klein Vogel, (the audience of 25) they loved the show," Schreiner said. "They told us they hadn't seen a show in years."
Schreiner said that at all the shows, the spectators – some in uniform, some not – cheered and shouted, and many danced like a storm – men, women and children.
"We were so happy to bring these people back a piece of home — America," Schreiner said. "A good show helped them break the monotony. It was so great to be able to meet all these people and play for them. We met people who had just joined the army and veterans, like colonels, who were ready to leave the service soon.
Sweet Siren, which was formed about four years ago, is a dream come true for Schreiner.
"It's hard to beat that combination of bandmates," he said. "They are the best."
The band is often on the road, traveling from gig to gig in the five-state area and across Canada. In fact, for this story, Schreiner was interviewed by phone as he drove through and past his childhood hometown of St. Joseph. He was heading to another gig, this time in Canistota, South Dakota.