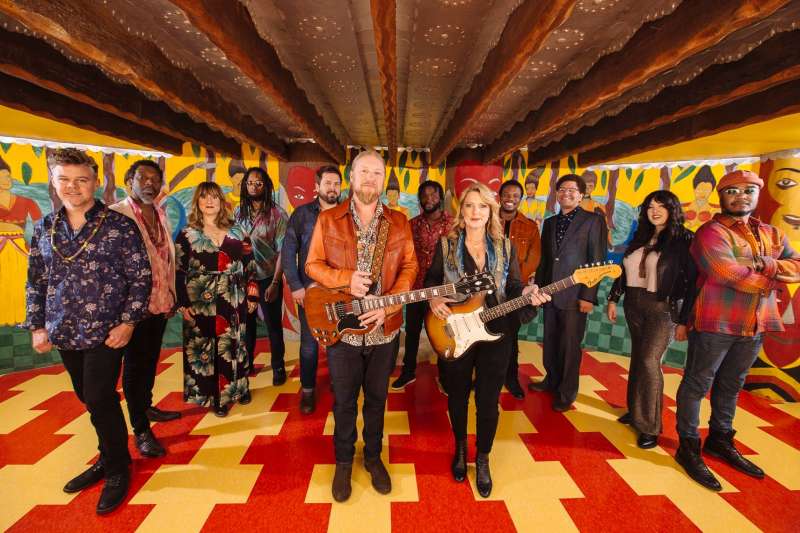 Tedeschi Trucks Band at Bluestem Amphitheater
By Chris Larson
During a short break from their Wheels of Soul tour with Los Lobos and the Gabe Dixon Band, I had the chance to speak with Susan Tedeschi, singer, songwriter and guitarist of the Tedeschi Trucks Band, which also includes her husband and wife guitar. legend Derek Trucks. We talked at length about the new album and what inspired the 24-track, 4-LP release that came with short films for each album, and the sound of the Tedeschi Trucks Band. However, we first talked about baseball and one of the least anticipated musical sit-ins of the summer.
High Plains Reader: How did you end up at Wrigley Field singing 'Take Me Out To The Ballgame' with Bob Odenkirk on a seventh inning this summer?
Susan Tedeschi: We have friends in Major League Baseball and so whenever we have the day off and we're near a baseball game, we usually go there. My husband is a huge Braves fan; I grew up in Boston, so I'm a big Red Sox fan, but honestly, I love every team. Derek and I went to the game with some of the guys from Los Lobos and our group and we showed up at some kind of club, and as soon as I got there Bob saw me and said, "Susan, come on over. 'sit with me for the game!' We've been friends for about six years since we met through mutual friends in Albuquerque, where he films Better Call Saul and filmed Breaking Bad, and every once in a while we try to reach out and say "Hey". So yeah, that was really lucky, he was like "Hey, come sing that with me!"
HPR: Can you talk a bit more about the inspiration for the new 4 album release, that millennial poem that also sparked the song Layla? Was the album born out of the pandemic-related live broadcast shutdown or was it something you were sitting on?
ST: It was born out of the pandemic. We were working non-stop and when everything was shut down in March and April 2020, Mike Mattison had mentioned to us that he was watching Layla and other assorted love songs, the live show we did with Trey (Anastasio de Phish), and he was listening to the record and he was checking all the lyrics on the original record thinking it sounded a bit one-sided, and why not dig into the original poem's reference to Layla and Majnun and see if we can come up with something from his perspective or perhaps someone else's perspective on this relationship. He circulated the poem and we all read it and were inspired by it. So it was just a way to keep us all in touch since we couldn't be together: to keep our minds active while we couldn't shoot, let's start writing and we have our own studio so it was a way of 'have the ball rolling, then we all wrote. We got together a few months later in August, the core six of the group of twelve, and we all had these different ideas, and then as we continued to write over the next few months, we realized we had a lot of things . So we worked that way like a six piece until we decided it was safe enough to all go to the farm and settle down together and really write for this project. That's when we noticed we had so much material that it wasn't going to be one disc or even two discs and we had to figure out how to present it. It started as an idea but we're such a big band and we had so many ideas coming in from everywhere and it seemed like such a good time to write that it just happened naturally that we ended up with four albums.
HPR: How much inspiration was drawn from the series of losses your musical family suffered in the two years just before lockdown. "I can feel you smiling"… there seems to be a lot of loss influence in there.
ST: There are. This song is interesting because Derek had written this music for the song and had no lyrics so he called our friend Oliver Wood, who listened to it and said "Oh my God, I absolutely can't stop thinking about this song, don't you mind if I take a chance?" and it ended up being almost a tribute to all of our friends that, as you said, we've lost, and in particular a mutual friend of Oliver, Derek and I, Colonel Bruce Hampton Some lyrics were inspired by him – but it could be Kofi (Burbidge, keyboards/flute/vocals), it could be Rico (Yonrico Scott, drummer). We can feel them and their presence, and they're always there with us, and that's how this song was born.
HPR: There are several different influences evident throughout the 4 discs, but what impressed me was how Tedeschi Trucks Band it all sounds through and through. It seems like this sound has really started to take shape over the past few years. Does the band feel it too?
ST: Yeah! Absolutely! I've always felt the sound there but I feel like, as you said, over the last two years it's grown more and more. Having Gabe Dixon (keyboards, vocals) in this band, and Brandon (Boone, bass guitar), came when we really needed them with the loss of Kofi. It was a great role to fill. And we didn't know how it was going to be. Gabe was filling in for Kofi when he was sick and that's how we got lucky and got him, because he's got his own career and a lot of records and he had his stuff to him. He really helped influence the sound, him and Mike Mattison and Derek. And then Falcon (Tyler Geeenwell, drums) put out a lot of great songs on this record and his writing helped round out the sound, showing more sides of the band. Falcon and I come from more of a rock and blues background, so it's good to see those influences on the record. A lot of guys in the band have multiple influences. There's jazz, blues, gospel and even folk, but rock and roll of course – and this was one of those projects that helped showcase everyone's songwriting style a bit. . But it's really more our own sound than maybe before, if that makes sense.
HPR: Yes, and that brings me to another question: although the band was born and named for the talents of the guitarists, it seems that in every gig there is a moment when almost every player shines. How important is it as a band, especially a twelve-piece band, to let every member have a voice, even if it's the two of you who are in front and named after the band?
ST: It's important and one of the things that's so cool is that there's so much to show and people seem to like all the different aspects of the band. Derek and I have had our own careers for years. There are a lot of people who know us but maybe they haven't seen all the aspects of how we get along with this group of musicians and the love we have for them. Even during the pandemic, Derek and I have helped support our entire group and team. Derek sold his car, and we sold our boat, and you're doing things to protect your band and your crew because that's what you do. You are doing this for the family, for the people you love and care about. There are too many bands that sometimes focus on the wrong things, you know, they don't really focus on the big picture, which is everybody getting together, not just two people. Our audience has always been supportive of that and the way we spread it and give a little to the horns and a little to the singers. Derek and I can run a band but it would be pretty boring all the time, plus it helps take some of the pressure off. If you're having a bad night, someone else can take over. And I love the diversity of this group: female, male, color, race, religion, whatever, but it shows how well we get along and love each other, which at this point in the world is important. . for people to see.
HPR: Finally, can you give me an overview of what ticket holders can expect on September 3 at Bluestem? The shows you streamed live from Red Rocks were full of collaboration between the three bands on both nights. Can we expect the same?
ST: It's such a fun tour. I don't know if we have anything specific planned for this last concert but I can tell you that we love collaborating with the group of Gabe and Los Lobos, either we get up with them, or they get up with us, or we did a bit of both – so I feel like last night there will be a lot of both. It's not just our group that gets along so well, we LOVE Los Lobos and they're like an extended family. We've done this tour in the past with them in 2016 and we got really close and I had toured with Caesar and David on the Experience Hendrix tour in 2009 and got to know them really well and Derek and David are close for years. I think there will be a lot of collaboration. You might also see a bit of all four discs, as the last one will be released on this show.
HPR: I'm really looking forward to hearing some of the new live stuff and collaborations.
ST: This tour is just a really positive message and being there with Los Lobos is very special, they're a legendary American rock band. We'll have a great time and that's all it's about, making music and making people happy.
_______________
IF YOU ARE GOING TO Tedeschi Trucks Band, Los Lobos & Gabe DixonSeptember 3, doors: 5 p.m., show: 6 p.m. Location: Bluestem Amphitheater Cost: $39.50-$125, all ages