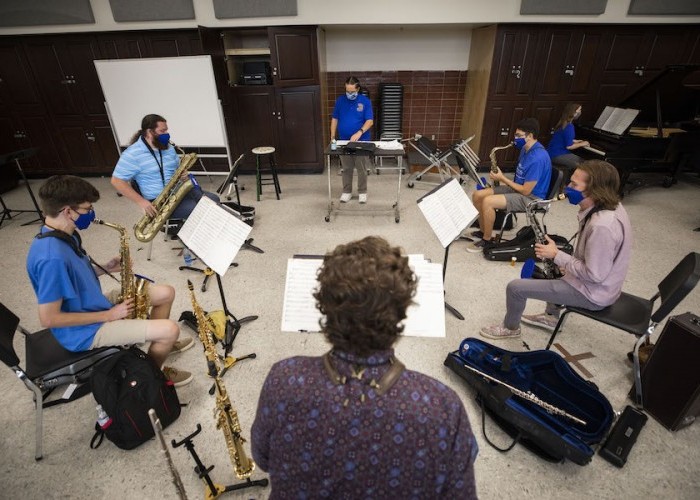 The difficult return of Jazz Education
---
By Terry PerkinsISeptember 21, 2021

Since mid-March 2020, the COVID pandemic has changed the landscape of jazz education at universities and colleges in the United States. The transition from in-person classroom instruction, rehearsals and performances to distance education, online rehearsals and virtual concerts happened almost overnight, as jazz study programs improvise and adjust to meet the challenge.
DownBeat recently spoke with five jazz educators from across the country to explore how their programs are adjusting, the lessons learned from this process, and the strategies in place for a hopeful return to in-person teaching for the next academic year.
Trombonist Conrad Herwig, Head of Jazz Studies at Rutgers University's Mason Gross School for the Arts, explained how the immediate transition to distance learning in the spring of 2020 laid the groundwork for the program's preparation for the academic year 2020-2021.
"We were a model of a traditional jazz conservatory and had to go overnight to emergency distance learning," Herwig said. "Over the summer we wanted to move to what we call a 21st century online program. Instead of an emergency bandage, we wanted to reinvent the way we teach. We held a three-day jazz tech camp for students that focused on audio and video technology and pre-sent items such as USB mics and visual interfaces. Lots of students had GarageBand or Logic, and we started working with an online digital collection portal called Band Lab.
"Every two weeks we would start with a song, lay out basic tracks and the rhythm section played at the same time to create rough tracks. The second week we called the track refined, and the students were playing against each other, finding nuances and coming up with ideas. At the very end, the rhythm section could come back, feel that interaction and freshness and add the finishing touch.
For Darden Purcell, director of jazz studies and vocal professor at George Mason University, it was important to try to come back in person as much as possible for the 2020-'21 academic year.
"Some aspects of online education have specific strengths," Purcell said. "But I like to teach in person and see smiling faces behind masks. There is so much about posture and breathing involved in teaching singers, that you cannot see through a computer screen. We ran sets one day in person and one day online each week, moved sets to large stages with better HVAC systems, and rotated the rooms to air them out between classes. We were hoping that we could fully come back in person, but we stayed in hybrid mode all year, which I think was a good move.
Miles Osland, director of jazz studies and saxophone professor at the University of Kentucky, was able to maintain full in-person rehearsals for students last year.
"We used social distancing and masks and moved large ensembles to the concert hall stage so that they could spread out," he said. "We even had large vocal groups spread across the seating area of ​​the 1,200-seat room for safe rehearsal. For the combo rehearsals, I found a room with the right capacity, measuring six feet – nine feet for the trombones – and placed the saxophones closer in a U-shaped situation. We were pleased with the result. . "
In terms of lessons learned from teaching jazz studies last year, Janice Borla, director of vocal jazz at North Central College in Napierville, Ill., Highlighted the challenges as well as the opportunities offered by technology in line.
"Our students were everywhere when it came to technology," Borla explained. "Some even used their phones. We all used Zoom and Vox to function, focusing on pre-recorded and live-broadcast concerts. And the teachers expressed how much more time it took to prepare for the lessons, because they had to approach things in a very different way.
"The good news is that we have all been very aware of the technology available, and it has given us a whole new perspective. Personally, I was initially reluctant to embrace online technology, but I had no choice, and it became very interesting. Going forward, I know we will be using a live streaming component even when we resume teaching in person.
Saxophonist Bob Mintzer, professor of jazz studies at the Thornton School of Music at the University of Southern California, also noted that technology cannot replace the importance of live rehearsals for jazz students, but that she can deliver the next best thing.
"As director of the Thornton Jazz Orchestra, I went through our usual meeting format twice a week for two hours, but instead of meeting each other live, we met on Zoom," Mintzer said. "And I really encouraged all the students to become composers and arrangers. And it went well beyond composition and arrangement because each member of the group recorded their part remotely.
"The precision and musicality necessary to record convincingly is a real discipline that you don't necessarily master with a live ensemble. And since you are recording remotely, you might hear a main part of a player in your section and need to match them. And it takes a certain amount of ESP to figure out how to place your part so that everything makes sense when put together. And finally, they had to learn to mix and make a video for the melody. The students were really stretching and exploring other disciplines.
Herwig also saw his jazz students become much more knowledgeable about music technology.
"As tech savvy as students are in many fields, we found that they were not as knowledgeable in music technology and video recording production," Herwig said. "So one lesson we learned is that students are now really a lot more independent. Some of them even found jobs as assistant engineers and in video production. It's like having a whole different palette.
For Purcell, the hybrid combination of live and online teaching at George Mason reinforced his belief that vocal students need to interact more with instrumental students.
"I always felt very strongly that vocal jazz students and instrumental students should take lessons together," she said. "So I wanted to make sure that we made every effort during blended education for them to take lessons together. Every student needs to feel the strengths and challenges faced by other musicians, whether singers or instrumentalists.
Osland missed the visit of visiting artists to the university in person, but was happy that the master classes could be held through Zoom.
"The musicians were unable to tour during the pandemic, so a lot of them were looking for things to do," he said. "We had a great Zoom class with Adam Larsen, and although we missed his live presence and the jam session aspect, it was still a real treat for the students."
All five programs plan to return to live teaching as much as possible for the 2021-2022 academic year. However, the delta variant and rising COVID infection rates are cause for concern.
"North Central plans to go in person," Borla said. "But unfortunately we are facing these new concerns with COVID. And I expect things to evolve. I know that even though we have live performance, we will be exploring and implementing live streaming components.
"To USC and Thornton, the message was sent in early summer that we plan to teach in person this fall, but in some kind of modified structure," Mintzer said. "But it's very fluid, and everything could change. We try to be optimistic, but we are still working on how to treat certain instruments and singers. Let me put it this way, we don't get rid of our Zoom accounts. "
"We anticipate that the new semester will be live and in person at Rutgers," Herwig said. "All the students need to be vaccinated, so we'll rehearse together. But we invested a lot last year in teaching with technology and we don't want it to be wasted. We expect each student to complete a virtual recording project during the year. We will have the hybrid of the traditional conservatory and the virtual. And if we have to come back online, we are empowered.
"At George Mason, we are 100% getting back to the person as much as possible," Purcell said. "We are monitoring the delta variant and everyone must be vaccinated to participate in person on campus. I can't wait to have two days of rehearsals a week and face-to-face classes. I'm excited, and the students are excited. We want to give them the experience they want, fingers crossed.
"In Kentucky, we plan to have in-person instruction and concerts with a live audience," Osland said. "But who knows? I was just talking to the dean, and we're placing another order to play masks. We need to be fluid and prepare to go with the flow. Comics
---
John Pizzarelli literally hit the stake to develop material for his new recording Better Days Ahead: Solo Guitar takes on Pat Metheny.

This year's New Orleans Jazz & Heritage Festival has been canceled. It was to take place in October.

Corea was last named Artist, Pianist and Keyboardist of the Year in DownBeat's 69th Annual Critics' Poll.

Carla Bley, Critics' Choice 2021 for the DownBeat Hall of Fame

Strabismus is Julian Lage's debut album on Blue Note Records.