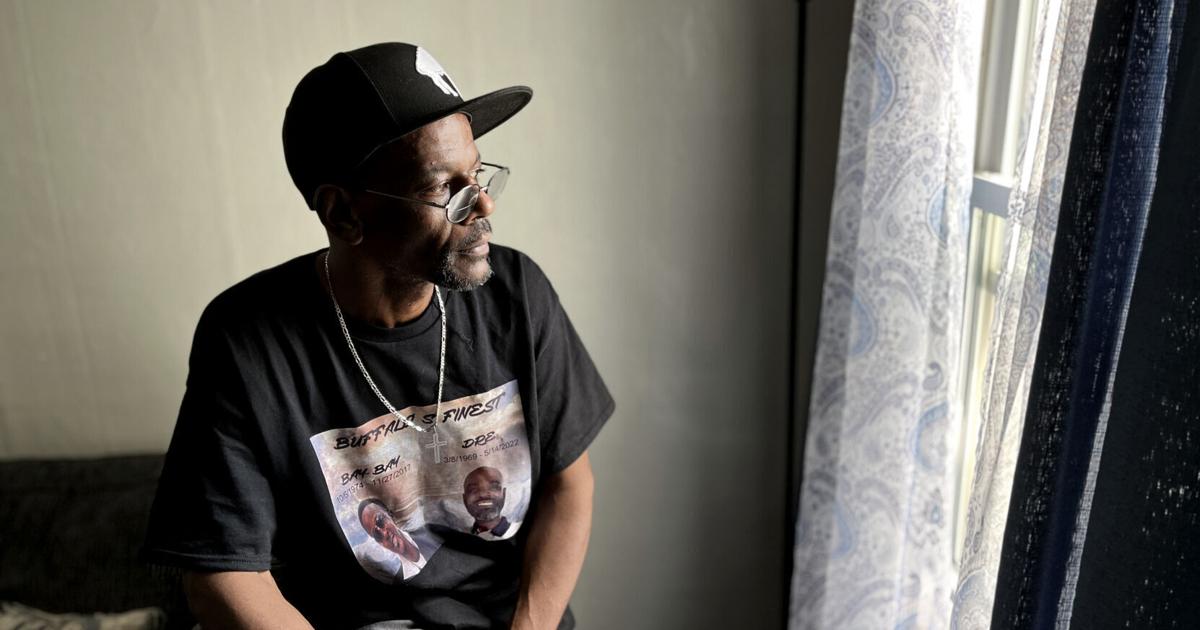 Top 5 of the week: Auburn victim remembered, Auburn Verizon store robbery, Memorial Day events | Local News | Auburn, NY | Auburnpub.com
AUBURN — Vyonne Elliott remembers playing a football game in the rain when she was 14.
He was running with the ball. Suddenly he slipped, fell and slipped on the grass. When he stood up he had a 4 inch gash on his left knee. He didn't notice it. But his older brother, Andre Mackniel, did.
Andre immediately took off his letter jacket and wrapped it around Elliott's bloody knee. He then picked up his younger brother and carried him, on his back, four blocks to their home in Buffalo.
Forty years later, Vyonne still has a scar on his knee. It reminds her of André and the bond they shared. But the pain Vyonne felt that day pales in comparison to the pain of losing her brother.
Andre, 53, of Auburn, was one of 10 black men and women killed in a racist shooting May 14 at a Tops Friendly Market in Buffalo. He was buying a birthday cake for his 3-year-old son, Andre Jr.
"I'm torn," Vyonne told the Citizen on Tuesday, his voice hoarse with heartache, in the living room of his Pulaski Street home. "I just want my brother back."
Sons of Lynda Mackniel and James Elliott Jr., Andre and Vyonne grew up "church kids" on the east side of Buffalo, he said. They and their younger brother, the late James "Bay-Bay" Elliott, not only attended services, but also Bible studies, dances, and other religious events. This makes Andre's death and the hateful motive behind it even harder to accept, Vyonne said.
A GoFundMe has been launched to support the fiancée and 3-year-old son of the Auburn man who was murdered in Saturday's racist mass shooting…
"We weren't brought up that way," he said. "We loved people for who they were, the person they were. What was in them. Not because of their skin color."
Andre took his mother's last name because his father, a Marine, was on duty at the time of the delivery, Vyonne said. The birth certificate was not altered, but André sometimes went through Elliott anyway.
The family didn't have much money, Vyonne said. So, being André's junior by a year, he often received the clothes his older brother had outgrown. But Vyonne could never put himself in André's shoes, he said with a laugh. Her brother grew to be around 6 feet 3 inches. It was what allowed him to bring Vyonne home on that rainy day in Buffalo, and it was what made Andre's most defining feature hard to miss.
"He had the biggest smile in the world," Vyonne said. "He could walk into a room and light it up."
Andre's height has also made him a force on the basketball court. Playing for South Park High, he could have gone straight to the NBA if it was as common then as it is now, Vyonne said. His brother once dunked future Dream Team member Christian Laettner, who attended Nichols School in the same town. Some have called Andre "Ralph Sampson" because of his resemblance to the 7-foot-4 star.
As a teenager grew into an adult, Vyonne began dividing her time between Buffalo and Auburn, where their grandparents lived. But he and André remained close. Vyonne eventually settled in Auburn, and in 2007 his brother joined him. He wanted to improve his life, Vyonne said, and Andre worked hard at it. He cooked for a living and continued to play basketball, play and coach in the summer leagues.
Andre also enjoyed playing the guitar and writing poetry. He wasn't very talkative, Vyonne said, but he was popular. Eventually he met and proposed to Tracey Maciulewicz, and with her had Andre Jr. three years ago. Andre "did everything" into raising his son, his brother said. He was also a beloved uncle, doing TikToks and sharing big hugs with Vyonne's daughters Lynda and Alex Elliott.
Alex told the Citizen that his dad and uncle were like best friends, together almost every day.
"He was always joking, always funny, always had a smile on his face," she said. "That big, nerdy smile. I remember him the most."
Vyonne will praise his brother Friday in Buffalo. It will be difficult for him to return to the city, he said. Andrew's death came less than five years after their brother James' death from kidney failure, which itself occurred three weeks after their father's. Their mother also died. Buffalo, Vyonne believes, took his family away from him. With André gone, he feels alone.
But Vyonne knows he must be there for his children and those of André. The brothers lived by the code of being each other's keepers. This means helping each other when they are hurt, as shown by the scar on Vyonne's knee, and taking care of each other's families. Vyonne has a daughter, Sorayna, who will be 3 years old in July. He hopes she and Andre Jr. can be as close as he was with his brother.
"We shared everything. The same mother, the same father, the same house, the same bed," Vyonne said. "The same pain, the same tears."
Photos: President Biden visits Buffalo after fatal shooting