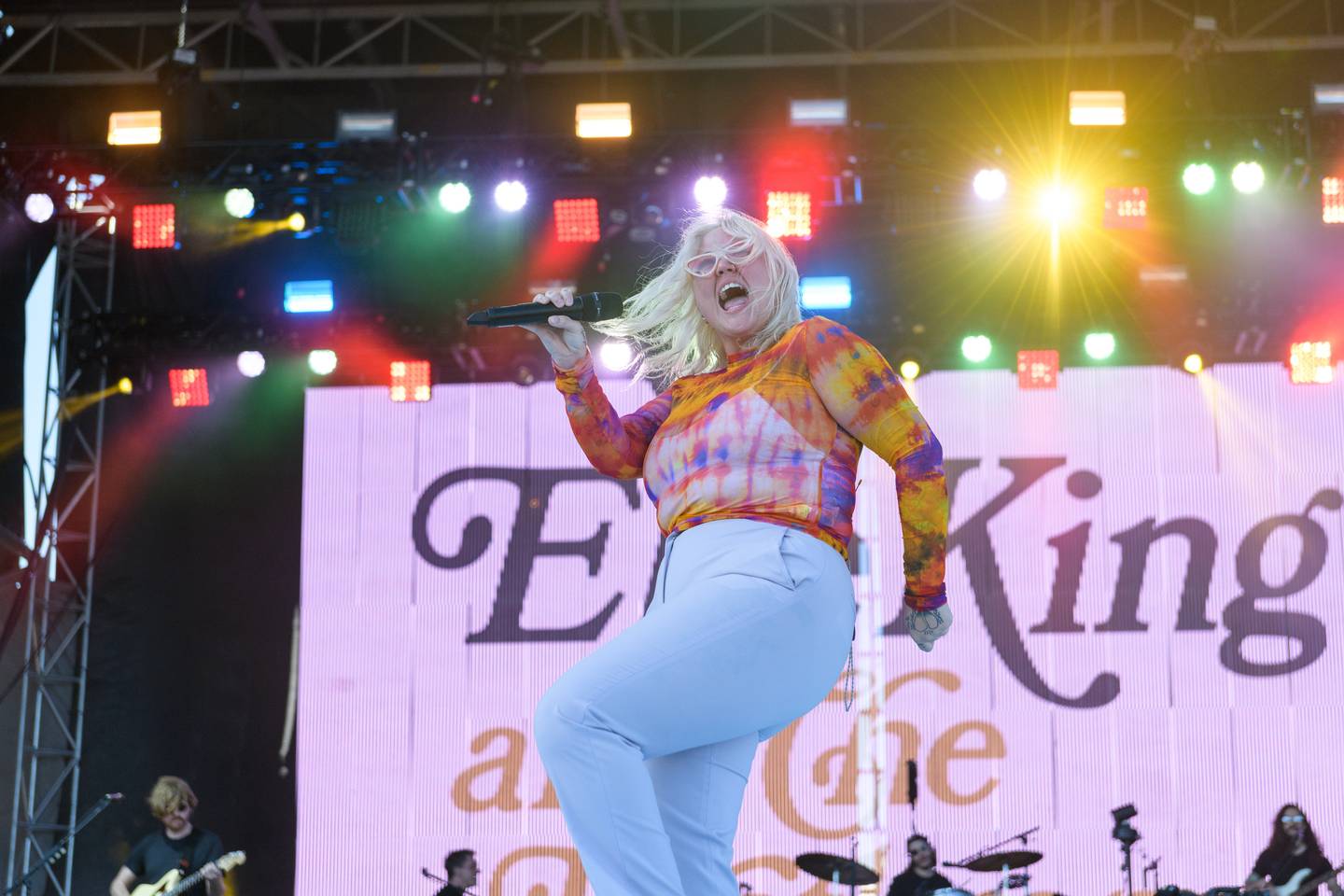 WATCH: Country music helps Elle King be herself, celebrate her roots and 'try Jesus' at a discount store | New
Elle King knows she has famous parents and the perception might be that the daughter of actors – Rob Schneider and London King – might be so removed from the country lifestyle that she doesn't know the difference between a pile of beans and a haystack.
She also knows she grew up in Central America on baloney and ketchup sandwiches.
"I'm a Midwestern girl," King said, explaining that she spent much of her formative years in southern Ohio. His grandfather was a railroad conductor in an old mining town and his brother worked in every factory within 40 miles.
"Either you work in factories, or you join the army, or you get pregnant at 16, which everyone in my family did, by the way," she said. "I love it. And I want to celebrate it too. I had to find my way and find myself first so I could celebrate where my family is from."
King is doing just that with his country debut album "Come Get Your Wife," which will be available Jan. 27. The 12-song collection is home to her No. 1 hit "Drunk (And I Don't Want To Go Home)" featuring Miranda Lambert as well as her Dierks Bentley duet "Worth a Shot", which is her second collaboration with Bentley following their hit "Different for Girls". Now fans can see another side of King. The first song on the album is "Ohio", named after her beloved memories. The fifth is "Lucky", which she wrote for his son.His new song and video, "Try Jesus," also from "Come Get Your Wife," shows a more outrageous version of the singer and is out now.
King co-wrote the catchy, wry, feel-good anthem with Geoffrey Warburton, Casey Cathleen Smith, Ashley Gorley and Ben Johnson about turning to Jesus when all the other men in her life have let her down . The video depicts an over-the-top shopping spree at a discount store in Central America, with King playing numerous characters, creating hilarity, and rolling around in a mess of beans.
"It's funny to step back and be like, 'I'm rolling in a pile of beans, and I'm so excited because I've never had the chance to show so much of myself,'" she declared. "It's the silly side of me, the real side of me, questioning and trying to understand my faith side of me and telling the story of where my family is from and where I grew up. As much as I 've been a very open book, I always only let people see part of who I am. Becoming a mother and being accepted by country music fans really helped push me into that.
King has been building his music career for 15 years. She was a multi-platinum pop singer with "Ex's & Oh's" before delving into country music.
"When I got into country music, I was like, 'Fuck, not only do I feel kind of accepted, but I feel like the more I am myself, the more they connect with me and celebrate because I'm different or who I am," she said. "I get a lot of like, 'We'd be best friends.' That's what a lot of people say on social media or if I'm at a meet and greet. It's like, 'Well, I'm your friend. I know you. That's how I grew up too.' But I also have this contrasting side of my life where I also spend a lot of time in New York, and I had a famous dad, so I saw Hollywood.'"
But Hollywood isn't where she celebrates with "Come Get Your Wife" and "Try Jesus."
"I always knew that I love where I come from," she said. "Now not only can I celebrate it and shine a light on it, but I can also tell the world that there is this place and there is this music in me that comes from this place, my lineage and the women and my family there."
Ohio – Written by Elle King, Bobby Hamrick, Ella Langley and Matt McKinney
Before You Met Me – Written by Tofer Brown, Meg McRee and Lauren Hungate
Try Jesus – Elle King, Geoffrey Warburton, Casey Cathleen Smith, Ashley Gorley and Ben Johnson
Drunk (And I Don't Want To Go Home) with Miranda Lambert – Written by Elle King and Martin Johnson
Lucky – Written by Elle King, Bobby Hamrick, Ella Langley and Matt McKinney
Tulsa – Written by Elle King, Bobby Hamrick, Ella Langley and Matt McKinney
Worth A Shot (with Dierks Bentley) Written by Shane McAnally, Ross Copperman and Josh Osborne
Crawlin' Mood – Written by Charlie Worsham & Jesse Frasure
Bonafide – Written by Elle King, Bobby Hamrick, Ella Langley and Matt McKinney
Blacked Out – Written by Elle King and Martin Johnson
Out Yonder – Written by Bobby Hamrick, Ella Langley and Matt McKinney
Love Go By – Written by Elle King, Geoffrey Warburton and Joe Janiak