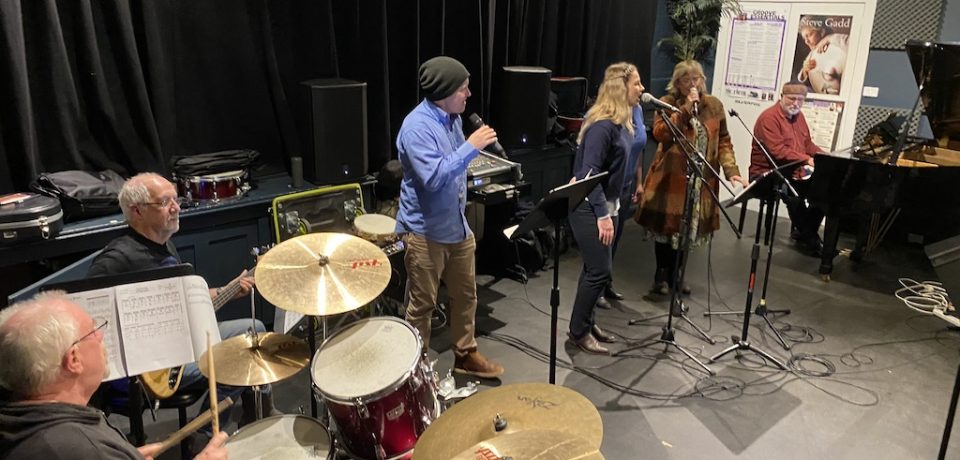 Who's Who of Goulburn Live Music Converges at Con
Since its first screening in 1991, the film The engagements resonated with musicians and left a singer and guitar teacher in Goulburn to harbor a dream.
Located in North Dublin The engagements is the story of a music lover who sets up a soul band. While the musicians are supposed to be rookies, they turn out to be pretty darn good.
Jump to today in Goulburn, a working-class town full of versatile and passionate musicians – just the place to recreate, in the best possible way, The engagements story. And Garth Prentice, the prolific performer who first returned to the stage at the Hibernian Hotel in June 2020 after that soul-destroying COVID-19 lockdown, did just that.
But Prentice isn't trying to fool anyone with this latest line-up in The engagements are novices; they are the who's who of Goulburn's live music scene.
Prentice had many places to assemble his talent. As well as head of guitar faculty at the Hume Conservatorium in Goulburn (aka The Con), he performs most weekends with a wedding and reception band. Oh dear or the Mike Baker Organ Trio or solo in pubs or in a Garth and his friends evening at the Goulburn Club.
Weekly newsletter
We aggregate the most read About Regional articles from the past week and deliver them straight to your inbox every Thursday afternoon. Subscribing is the easiest way to follow, all in one go.
---
READ ALSO: Excited New Recruits Bolster Wildlife Assessment For Landowners
---
The apprentice says The engagements, despite being a fictional band in the film, taught him a lot about transitioning a band and how to start one.
"He has this massive cult following within musical communities of all walks of life," he says. "And who doesn't love Mustang Sally?"
Over the years, the Con has organized concerts like the one on August 4 with The engagements to raise money for his scholarship fund, which helps underprivileged young people take music lessons.
"We were looking for ideas on how to bring these groups together and new ideas on how to promote it," says Prentice.
"We have had success with tribute acts and our staff before and The engagements has a repertoire that many of us know very well. It was an amazing chance to include a bunch of our staff and our community in one project.
And he can feel the community rediscovering the restorative magic of live performance after Covid-19 kept so many people away.
"The community support over the past two months has been really great – people have been going to paid events at GPAC [Goulburn Performing Arts Centre] and the Goulburn Club and the Hume Conservatorium," says Prentice.
"We lost a few venues during the Covid break, it's nice to see a few of them coming back to life.
"Places that have struggled like the Goulburn Club are also starting to have a good scene."
The engagements its debut on Thursday, August 4 at The Con on Bourke Street. The goal is to sell 100 tickets at $100 each for a two-course meal with drinks and the live music show. Doors open at 6:30 p.m.
Prentice will lead vocals, along with Keva Abotomey, formerly of The Con, who now teaches in the Southern Highlands, Charlotte Lock, a performer around Goulburn and also music teacher at Trinity Catholic College, Corby-Lea Will who also performs in Oh la la. Prentice says all three women are exceptional singers.
"We also have Geoff Bell, a musical director from Goulburn who will play drums, Ron McLaughlin and Mike Baker from the Goulburn Club will play bass guitar and keyboard," he says.
"Andy Picker, who leads our Inter-School and Con Awareness program, will play the organ. Liam King, a tutor at Con, will play guitar and we will also have featured performers from the student body.
---
READ ALSO: Former Defense Commander Is Drawing A Fine Line These Days
---
"We will play the first album released by The engagements film and do our best to recreate as faithfully as possible these incredible recordings made for this film.
"We all want dreams to come true.
"I am amazed every day to be able to teach music to our young people and play music for our community. As a kid playing guitar in my bedroom who thought I would be part of a vibrant musical community.
As a youngster, Prentice wanted to play with AC-DC – but life changed his perspective.
"Now it's more who I can play with than what I can play with," he says.
"I play with amazing musicians and we play all kinds of different music and learn new repertoire all the time, put on different shows. That's the exciting part for me.
Doors open for The Commitments concert at 6.30pm on August 4 at the Hume Conservatorium, 160 Bourke St, Goulburn. Tickets are $100 and include a two-course meal with drinks – click here to reserve.